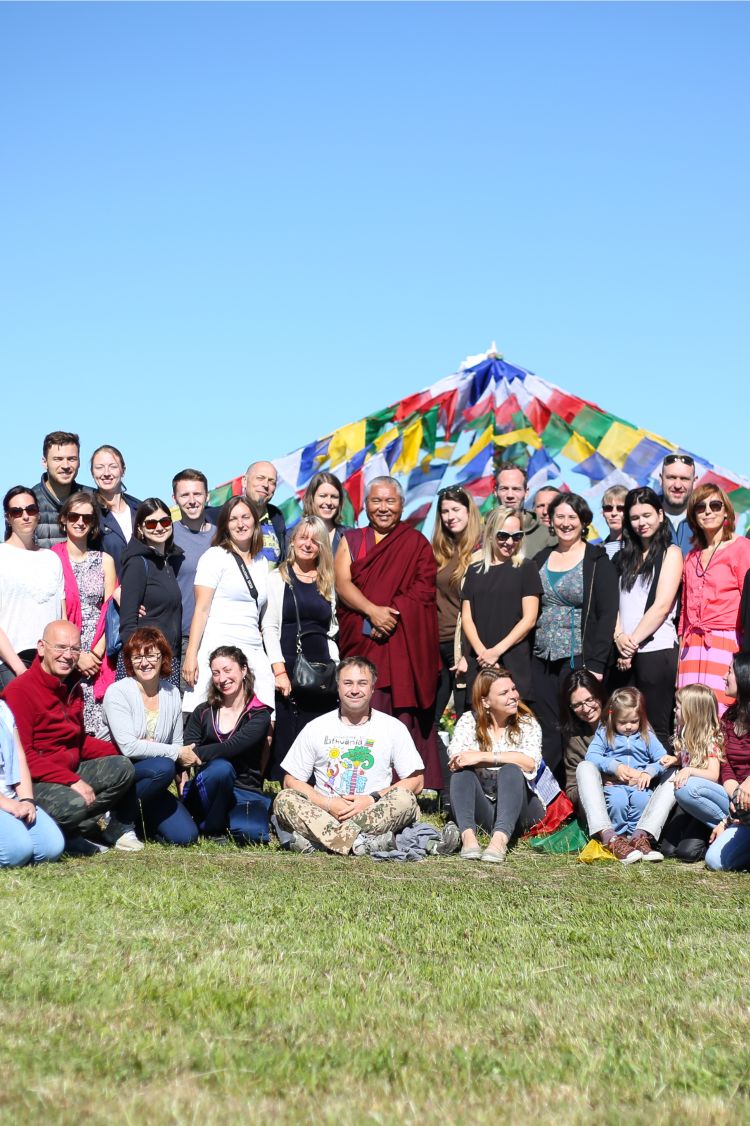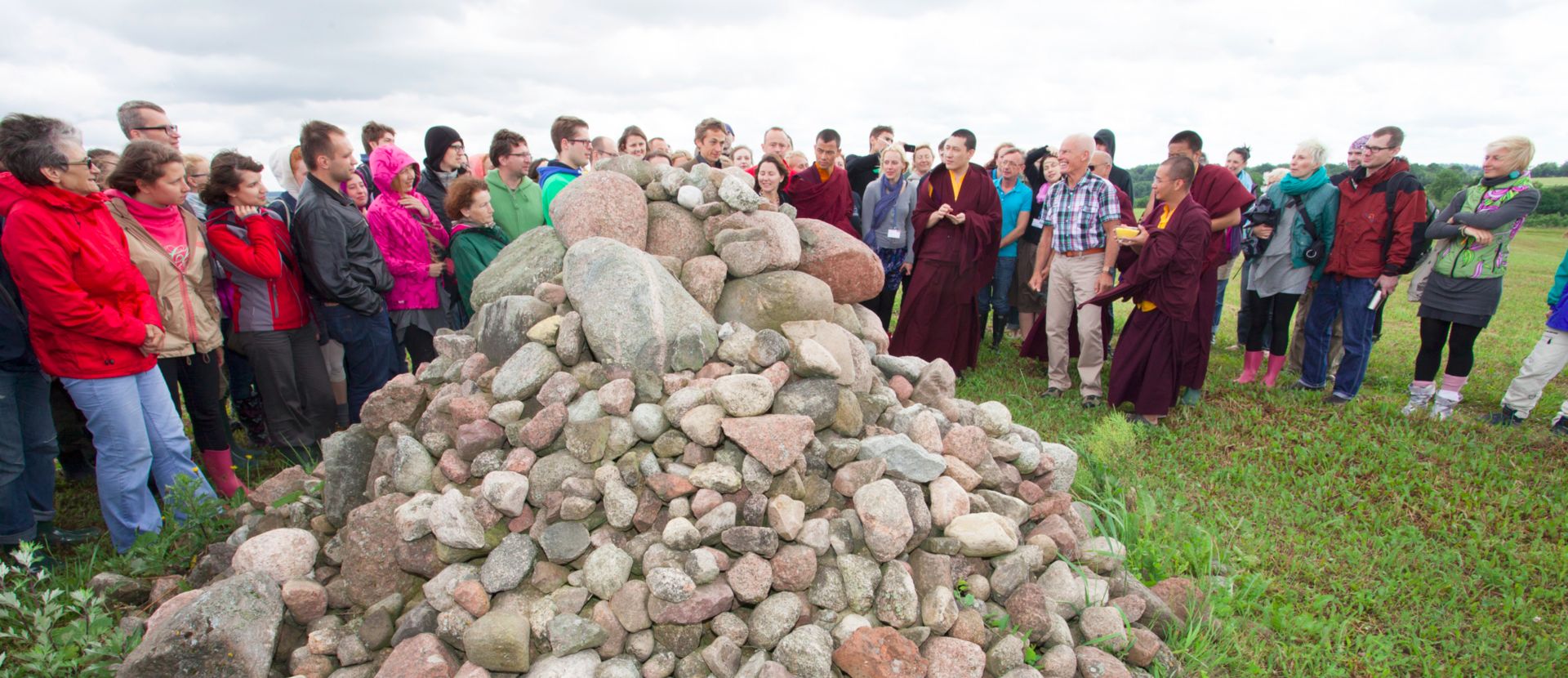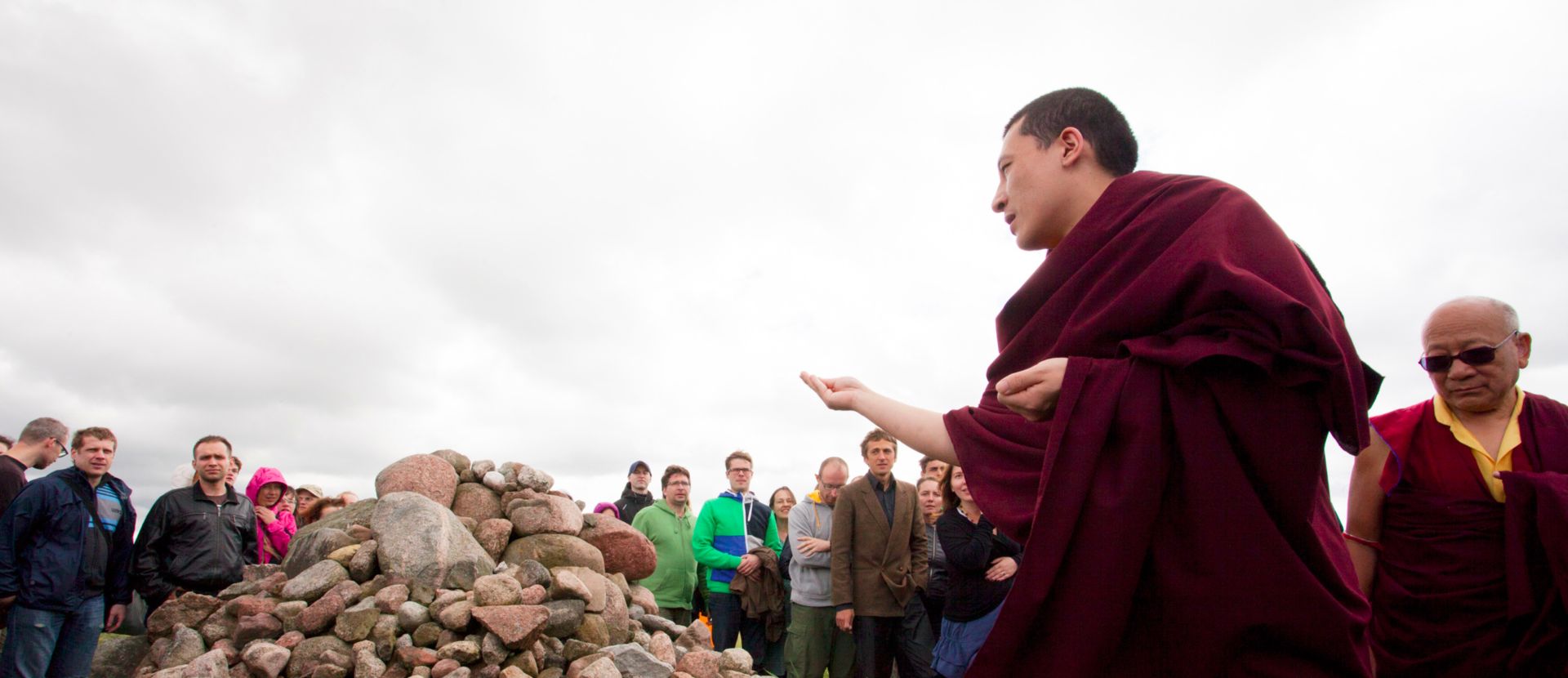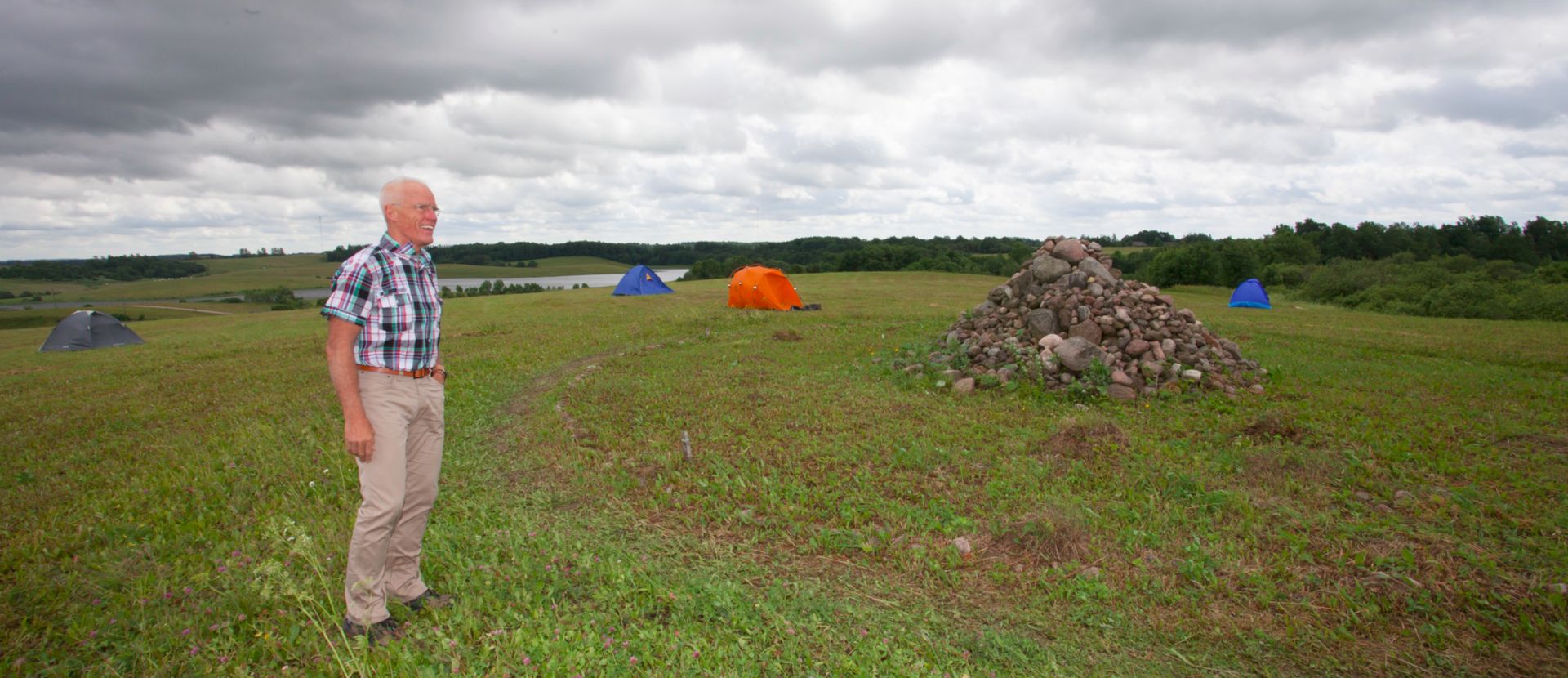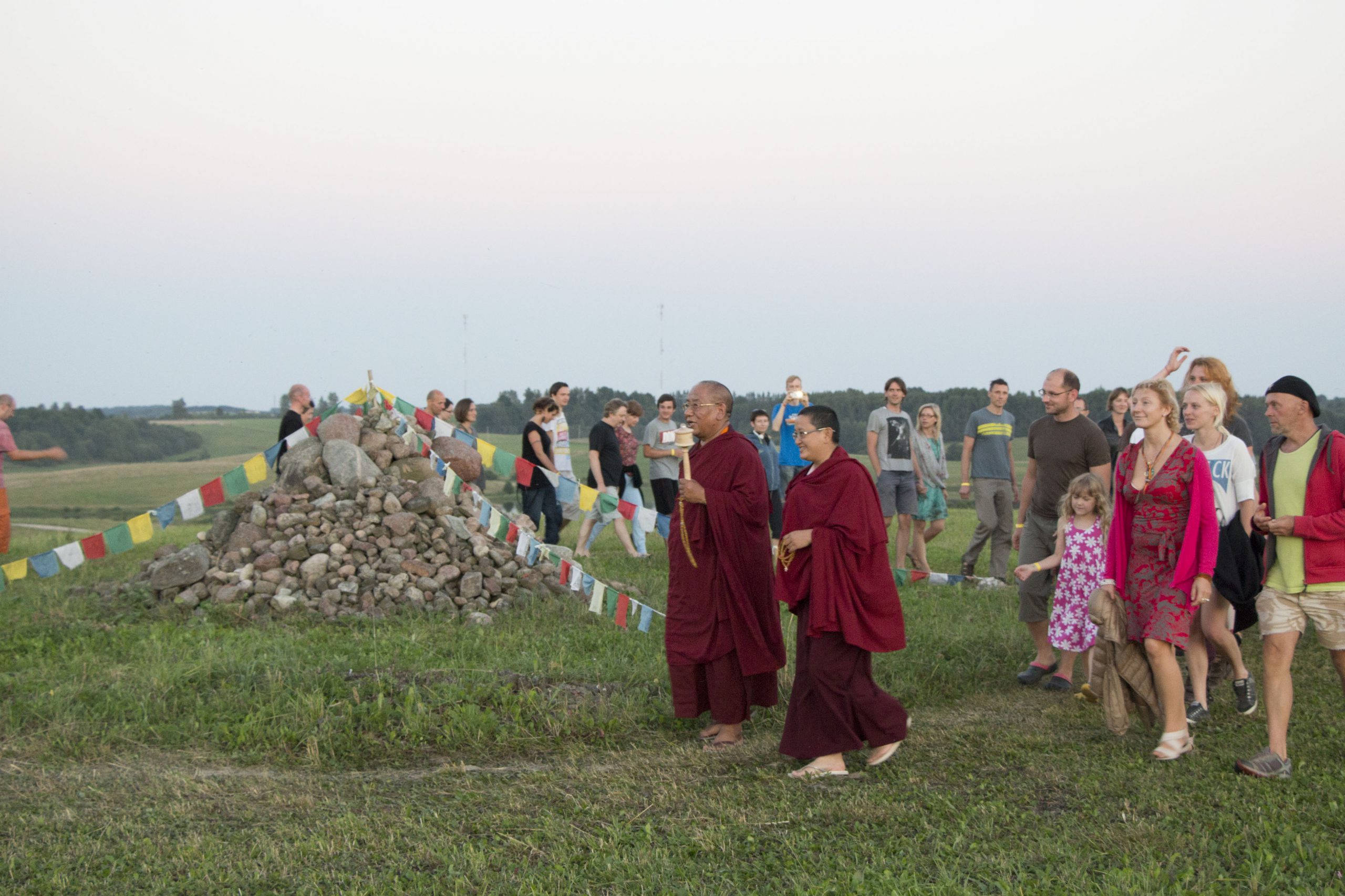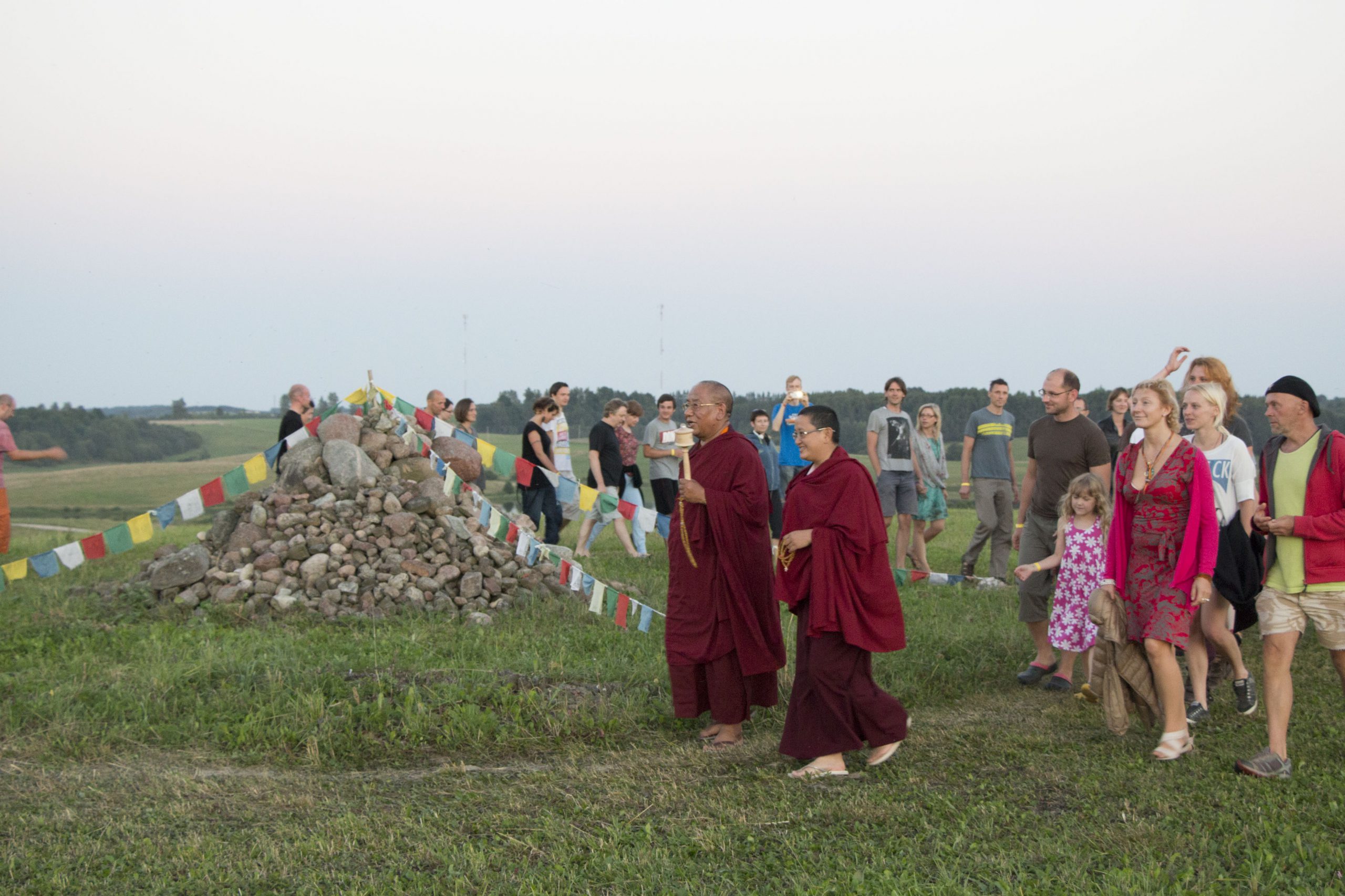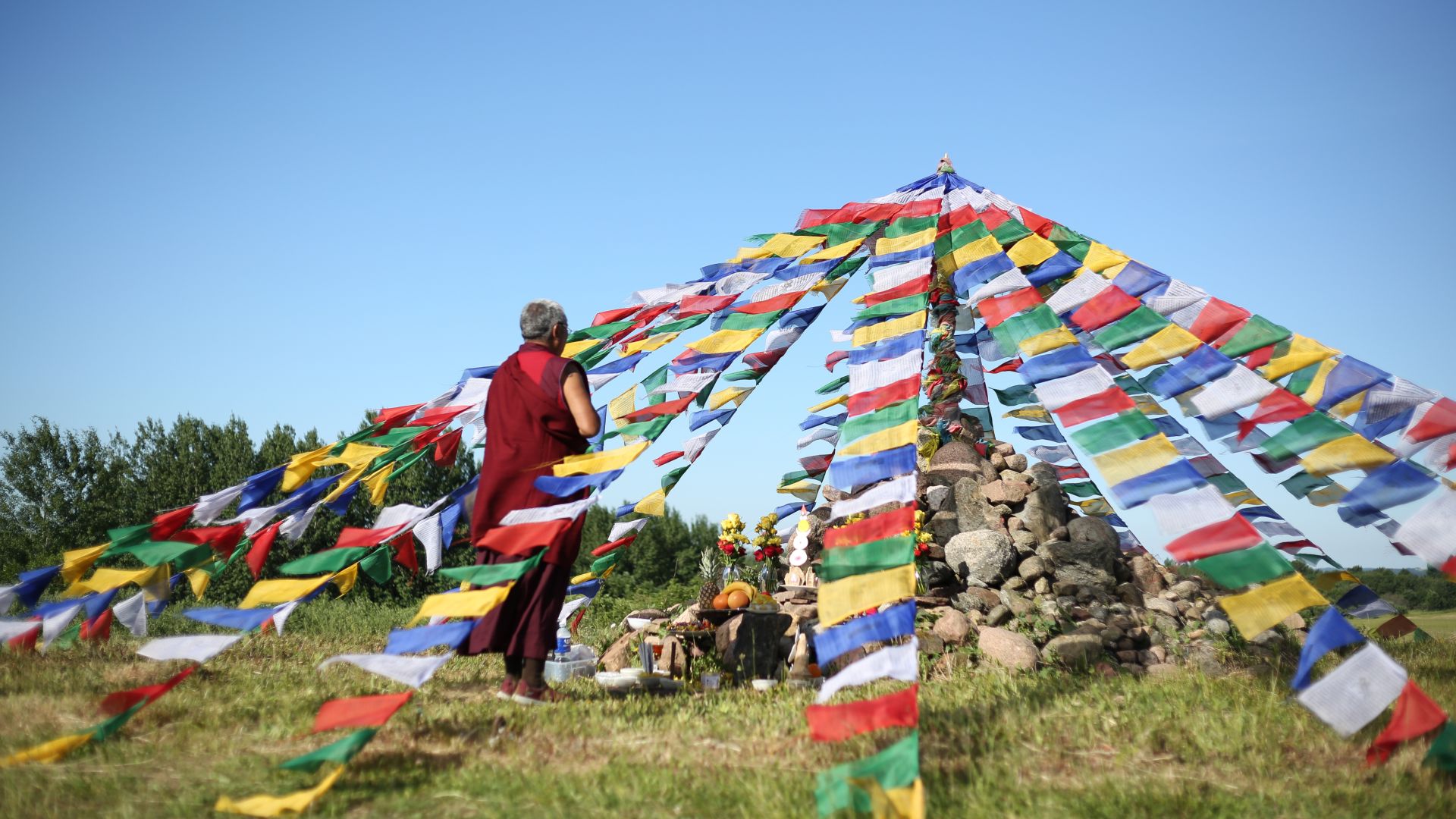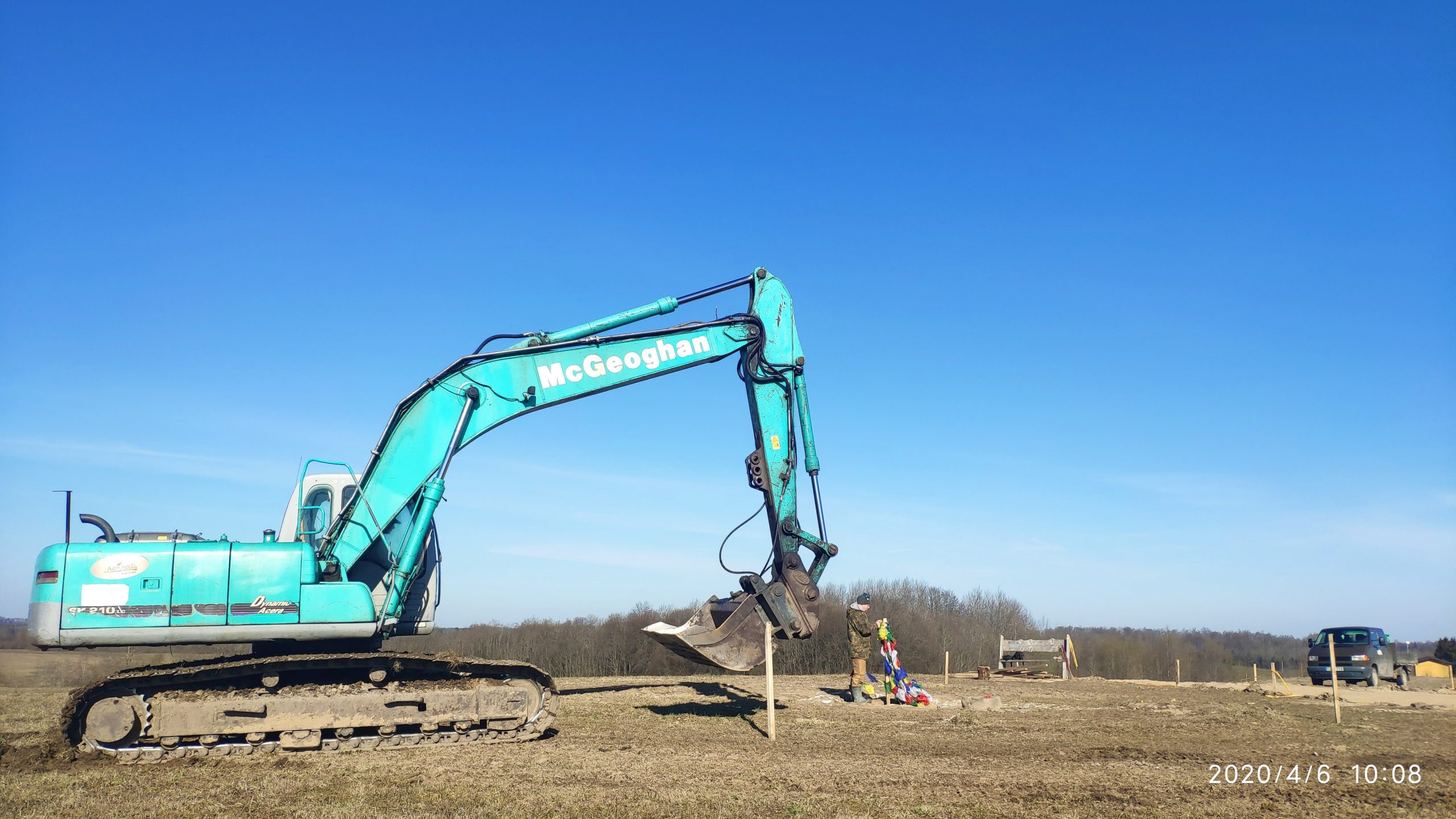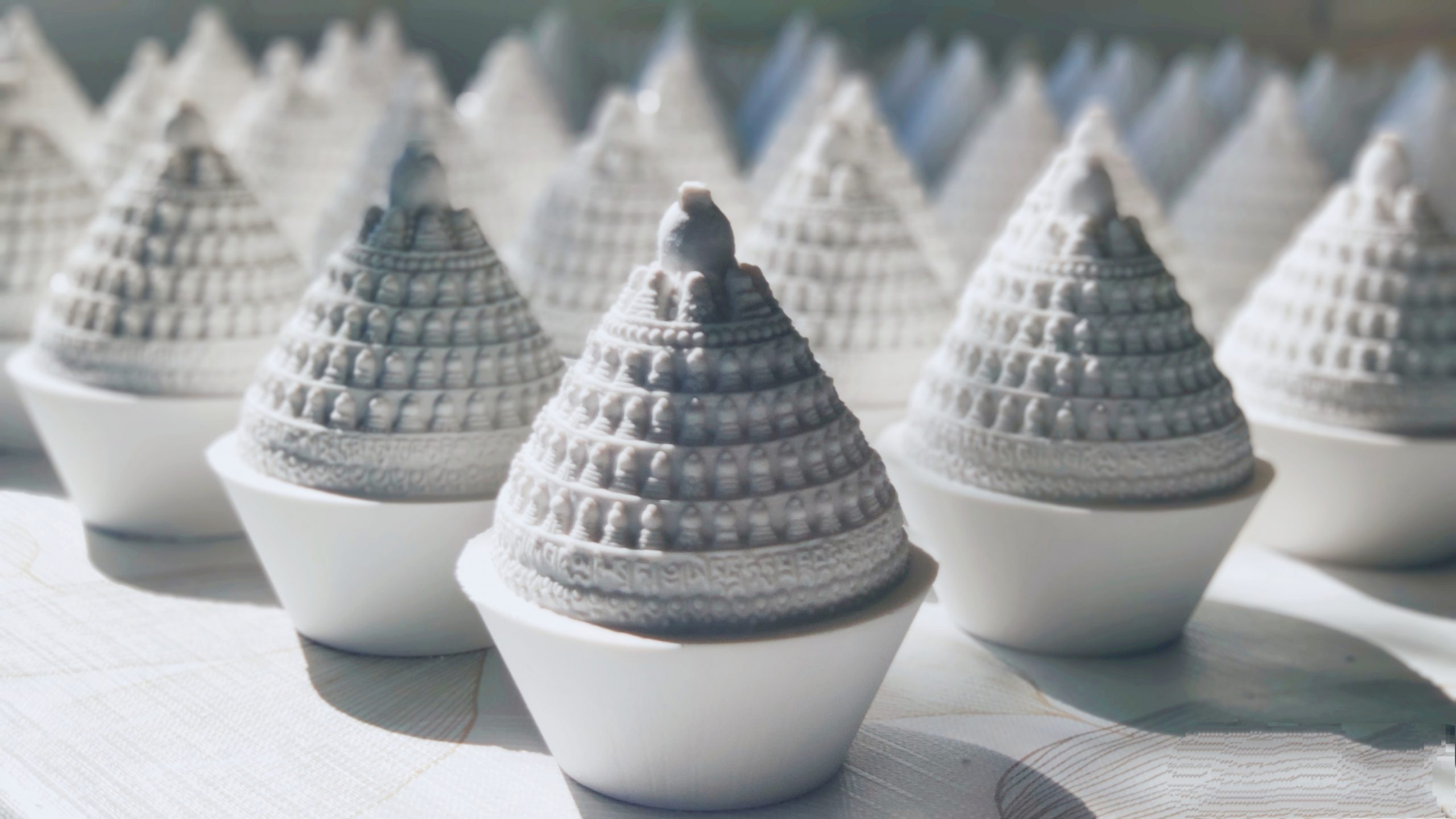 We are happy to invite you to the inauguration of the Lhabab Stupa in Stupkalnis, which commemorates Buddha's descent from the gods' realm. The stupa will be inaugurated by Nedo Rinpoche on 24 September 2022.
COURSE PROGRAM
September 22 (Thursday) – Program with travelling teachers
September 23 (Friday) – Teachings by Nedo Rinpoche
September 24 (Saturday) – Stupa consecration ceremony
September 25 (Sunday) – White Tara initiation
REGISTRATION
Registration for the Lhabab stupa inauguration course (September 22-25, 2022) is at Lhabab-stupa-inauguration.
Payment details are provided upon registration completion.
STUPKALNIS MAP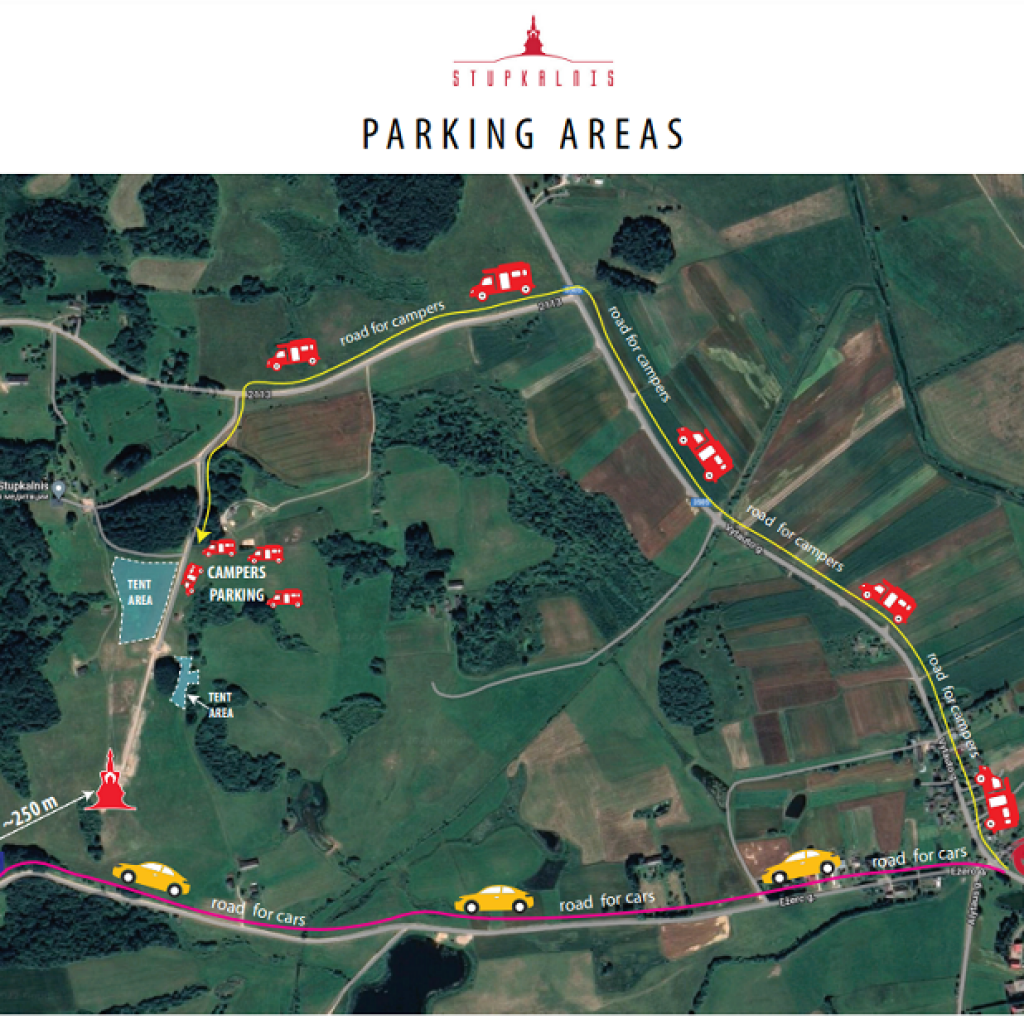 WHERE IS STUPKALNIS
Stupkalnis is located in the central part of Lithuania. It's 225 km from the capital Vilnius and 200 km from Riga (Latvia).
Coordinates: 55.610640282034375, 22.65892649423951
HOW TO REACH STUPKALNIS
By plane
By ferry
There are very nice and romantic ferry lines to Klaipėda (for example, from Kiel (Kiel-Klaipeda-DFDS)). From Klaipėda seaport, you can easily reach Stupkalnis Klaipėda to Stupaklnis
By car
By bus
You may choose to come to Kryžkalnis (22 km away from Stupkalnis) by bus. You can see the timetable and buy bus tickets to Kryžkalnis here: http://www.autobusubilietai.lt/
SHUTTLE
From Kryžkalnis the shuttle will be organised according to the demand only during the Inauguration course days on September 22-25th.
The shuttle will be provided (8 a.m. to 22.30 p.m.) from/to nearby town Kryzkalnis on demand (except for the empowerment and lectures). Please make sure to mark such an option during registration online.
Payment is cash only, price is 10 EUR per person one way (depending on the number of people in a car).
Please drop a message or call us at least one hour before your arrival: tel: +370 60347028.
CARPOOL
What to do if I do not have a car/nor driving licence, but want to stay off-site? Well, in this case, follow this link – Self-transfer cooperation is always welcome, although, for those, who need help, we have created a sheet, where you may catch a car if you are lucky. 🙂
MONEY
Keep in mind, that the nearest ATM is located 20 km away from Stupkalnis, thus make sure to have enough cash to pay for the shuttle, accommodation in the nearby village, beverages and an extra cup of coffee, dharmashop etc.
ACCOMMODATION
According to the current weather forecast, the daytime temperature in Stupkalnis will be 16-18 C, the nighttime temperature is ~10 C. We have a lot of space in Stupkalnis for self-service camping if you prefer (please bring your tent, sleeping bag, mat, meditation cushion, warm clothes, boots, raincoats etc.). Showers with hot water will be provided.
We will be able to provide more comfortable accommodation (with your own sleeping bags and mattresses) in the Kražiai village nearby only for a limited amount of people with special needs; however, please find information on hotels and hostels in the surrounding area (30 – 60 min drive by car).
If you need more comfortable accommodation, please drop us an email: registration@stupkalnis.lt
Or we may talk: Tel.+370 60346870 (English, or we may try Russian)
INAUGURATION COURSE PRICES (September 22-25, 2022)*
Prepay before the 15th of August
Whole course (September 22-25):

Regular price – €145
Children (5-16 years) – €60

Day price:

Regular price (September 22) – €25
Regular price (September 23-25) – €40
Children (5-16 years) – €15
Payment from the 16th of August
Whole course (September 22-25):

Regular price – €165
Children (5-16 years) – €60

Day price:

Regular price (September 22) – €30
Regular price (September 23-25) – €45
Children (5-16 years) – €15
* Prices include 3 meals per day
MEALS
Meals will be provided three times a day and is included in the course price. Vegetarian food is available.
TRANSLATION
During the lectures, the translation into Lithuanian and Russian will be available via FM players. It will be possible to rent an FM player during the course.
CHILDCARE
Organized child care will not be provided. Although, a children's playground will be set up during the event. Children are only admitted to the lectures and initiations from the age of 12.
COVID LATEST UPDATES
Currently, there are no Covid restrictions for the events in Lithuania. However, we suggest you keep travel arrangements flexible, since change is constant, especially nowadays.
Follow us on Stupkalnis facebook page or subscribe to a newsletter on our website www.stupkalnis.lt or visit the official EU site: https://reopen.europa.eu/en to get the latest news.
CONTACT
If you need more information:
check the site: www.stupkalnis.lt
if you have Facebook, please like Stupkalnis Stupa page for the latest updates.
If you have unanswered questions in regards to registration and accommodation, please drop us an email: registration@stupkalnis.lt
Or we may talk: Tel.+370 60346870 (English, or we may try Russian)
Shuttle service: tel: +370 60347028
---
This charitable event is organized by the Buddhist Community of Diamond Way Buddhism Karma Kagyu Lineage in Lithuania. All collected funds remaining after covering the event organizational expenses will be allotted to cherishing Buddhism values.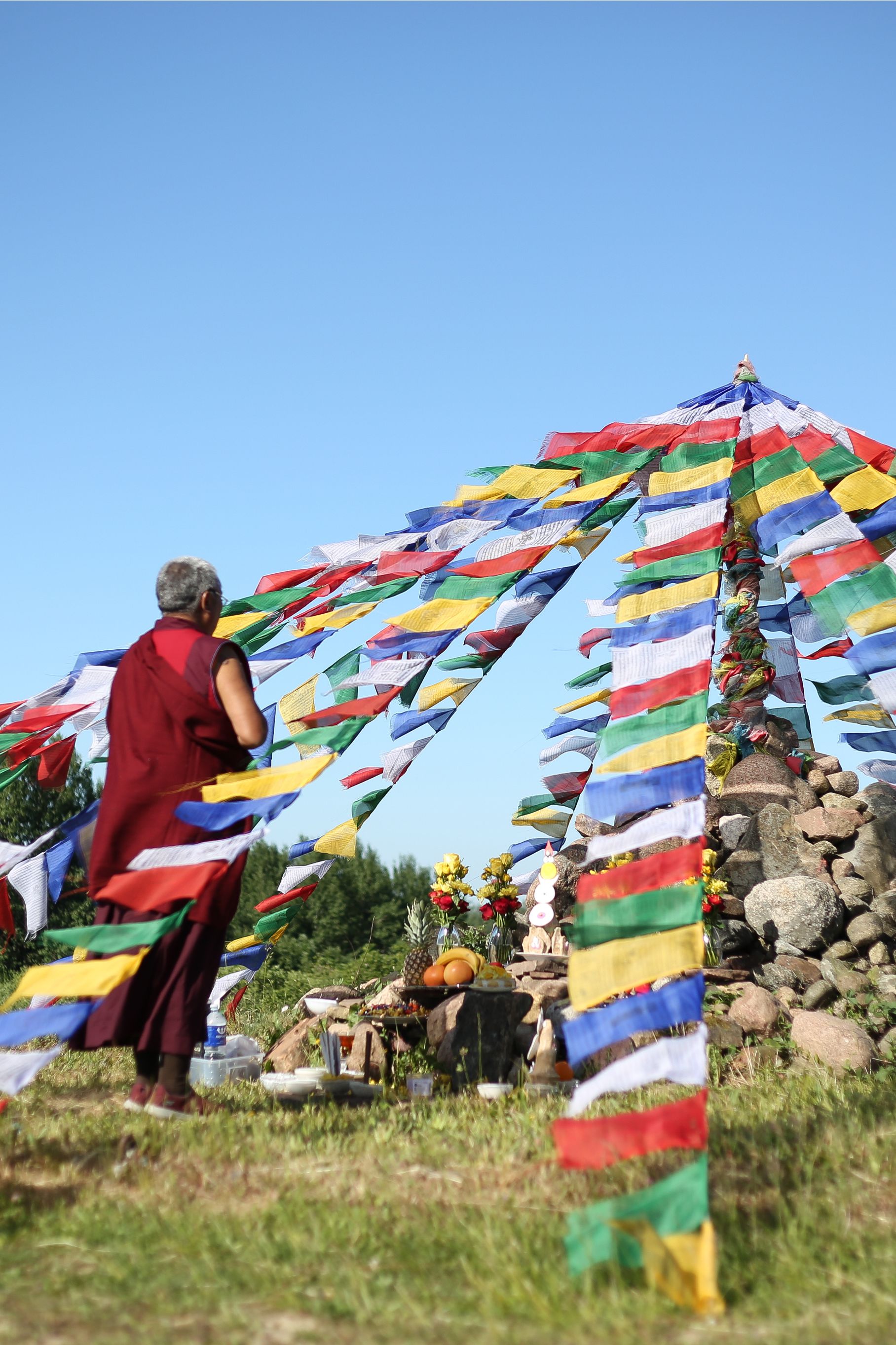 Lama Ole Nydahl has visited Stupkalnis many times, and every time he blessed the current Stupa place. H.H. the 17th Karmapa Trinley Thaye Dorje visited Stupkalnis in 2012 and suggested asking Sherab Gyaltsen Rinpoche about the type of and the place for the Stupa. In 2013, Sherab Gyaltsen Rinpoche visited Stupkalnis for the second time, and not only chose the place, but also the type of the Stupa – Buddha's Descent from Gods' realm. In the summer of 2017, Lama Ole Nydahl invited Nedo Kuchung Rinpoche to build and inaugurate the Stupa in Stupkalnis.
Stupas are monuments for peace in the world. They are constructions which express the pure nature of the mind in a perfect form.
Stupas have been built in Asia for centuries, while in Europe only since 1982. Stupas in Europe mean the strengthened transmission of Asian Buddhism coming to Europe and that the Dharma can grow here. Their symbolism is multifaceted: for instance, a stupa stands for various Buddha wisdoms, but it also may refer to the community of practitioners, the Sangha. Generally, it is said that the spiritual influence of a stupa is so great that those who revere them, help during its construction, or those who live in the vicinity, experience its positive effect as a source of peace, happiness, and prosperity.
Those who circumambulate the stupa clockwise while making wishes for the benefit of all beings experience a blessing, which enables one to live a long, meaningful, and exemplary life.
Stupa also purifies the atmosphere making it possible for realized teachers to be reborn there and that the Dharma (Buddha's teachings) can grow.
Stupa brings peace and prosperity to the country in which it is built. It protects the location where it stands, such as a Buddhist center.
For more information visit:
http://buddhism-today.org/buddhist-stupas-history-purpose/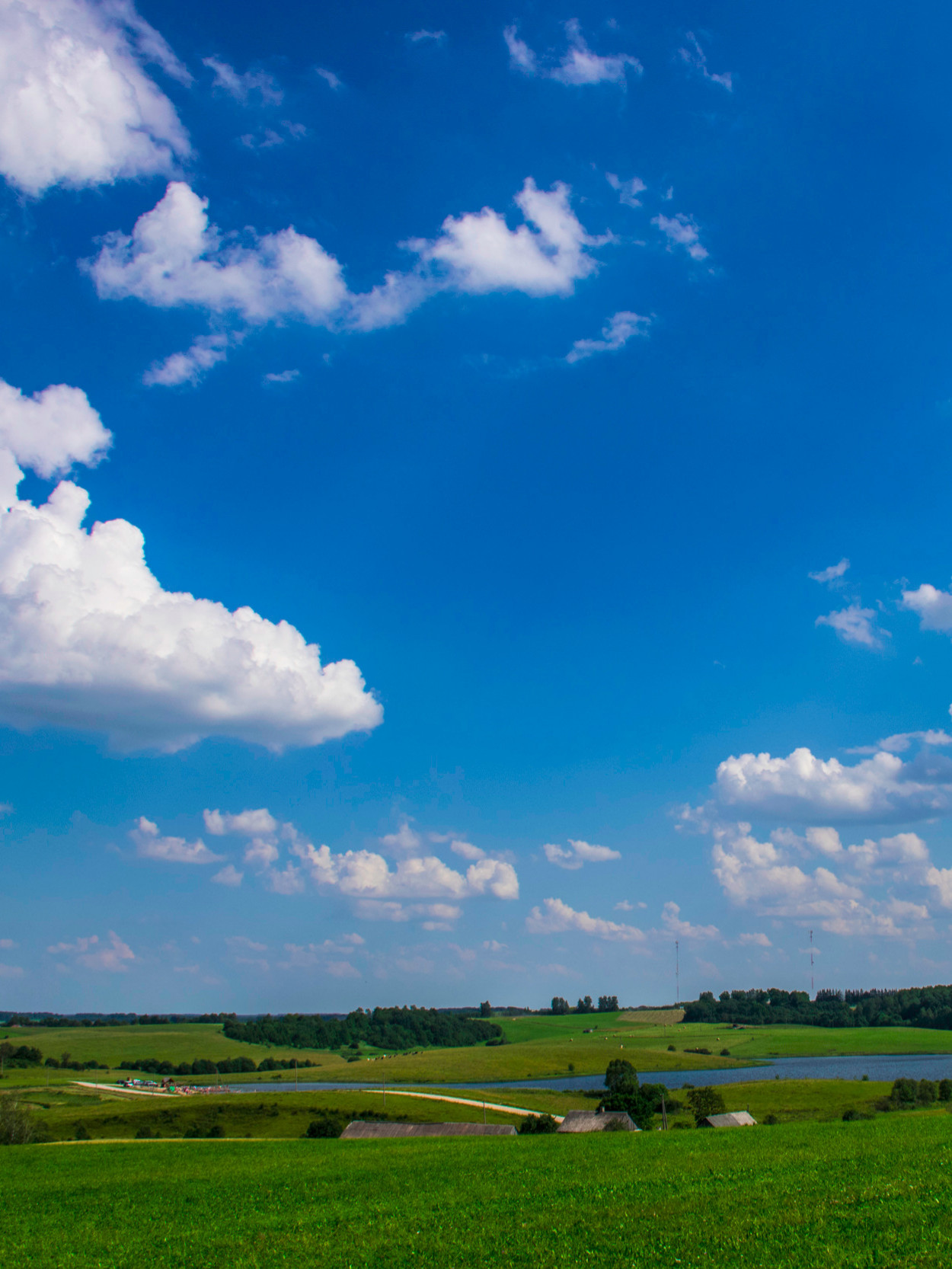 Buddhist Retreat Centre in Stupkalnis is the main Diamond Way Karma Kagyu Lineage centre in Lithuania and the biggest international retreat centre in Baltic countries, which connects Diamond Way Buddhism in the Baltics: Estonia, Latvia, Lithuania, Belarus, Kaliningrad region and neighbouring countries.
It is one of over 650 Diamond Way Buddhism centres, all started by Lama Ole and Hannah Nydahl at the request of the 16th Karmapa Rangjung Rigpe Dorje. Currently, the main lama of Karma Kagyu lineage is H.H. the 17th Karmapa Trinley Thaye Dorje.
Diamond Way Buddhist Community purchased a piece of Stupkalnis land in 1997. Since 1998, the Community has been organising international Buddhist courses here. Today, summer courses are held in Stupkalnis retreat centre each year, often in the main house with a meditation room that can fit around 200 people. In addition, there are three huts available for Diamond Way buddhist retreats.
H.H. the 17th Karmapa Trinley Thaye Dorje, Lama Ole Nydahl, and Sherab Gyaltsen Rinpoche have all given teachings here.
and you will get latest information about Stupa Project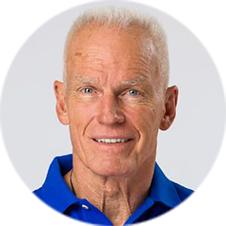 Lama Ole Nydahl
Lama Ole Nydahl and his late wife Hannah were the first Western students of H.H. the 16th Gyalwa Karmapa Rangjung Rigpe Dorje. For over 40 years, Lama Ole Nydahl has taught Diamond Way Buddhism to tens of thousands of students and founded over 650 Buddhist centers worldwide. Lama Ole Nydahl specializes in the practices of Mahamudra (the "Great Seal") in which a realized teacher can give an experience of the limitless nature of mind to the student, and Phowa—a rare, centuries-old method of conscious dying. He teaches his students to combine lay Buddhist practice with independent thinking and the maturity that comes through life experience. A recent winner (13th of June, 2015) of the UNESCO prize for Dialogue, Coexistence, and Peace, Lama Ole Nydahl also underlines the importance of democratic principles in the society, especially freedom of speech and women's rights.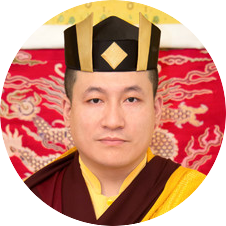 17th Gyalwa KARMAPA Trinley thaye Dorje
Thaye Dorje, His Holiness the 17th Gyalwa Karmapa is the head of the Karma Kagyu lineage of Tibetan Buddhism. He is the spiritual leader of around 900 monasteries, institutions and centers in 68 countries around the world.
Karmapa regularly visits Diamond Way Buddhist centers around the world. He has often given teachings and empowerments at the Europe Center in Germany, the main international meeting point for Diamond Way Buddhists. Lama Ole Nydahl describes Karmapa as being the guarantor for the authenticity of our Karma Kagyu lineage.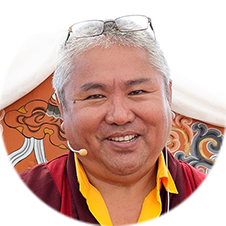 NEDO KUCHUNG RINPOCHE
Rinpoche kindly accepted Lama Ole Nydahl's invitation to build and inaugurate a stupa in Stupkalnis in 2020.
Nedo Kuchung Rinpoche was born in 1962 in India, and recognized by H.H. the 16th Gyalwa Karmapa as the sixth reincarnation in the Nedo Kulha lineage. Until the age of 18, Rinpoche was educated under the guidance of H.H. the 16th Gyalwa Karmapa in Rumtek monastery. He then studied for three years in Ladakh before returning to Rumtek for a three-year retreat, where he practiced the tantras of Marpa, the Six Yogas of Naropa, and various Mahamudra transmissions. When he was 25, Rinpoche was appointed Vajramaster of Rumtek monastery, and he remains today the main Vajramaster of H.H. the 17th Karmapa Trinley Thaje Dorje. Nedo Rinpoche is currently responsible for Shamar Rinpoche's monks as well as all activities of the Karma Kagyu lineage in Sikkim.
In order to get the best possible benefit from our increasingly precious time, it is very useful to spend time in an existing enlightened power field. Although the truth state is the same everywhere, the power fields of the joy state condense most strongly where the blessings for them have been specifically placed. The desired increase in mental surplus will be more effective in such places. The prerequisite for the full advantage of such a retreat is the protection of Buddhist refuge and the decision to follow the Diamond Way path of the Karma Kagyu lineage.
Lama Ole Nydahl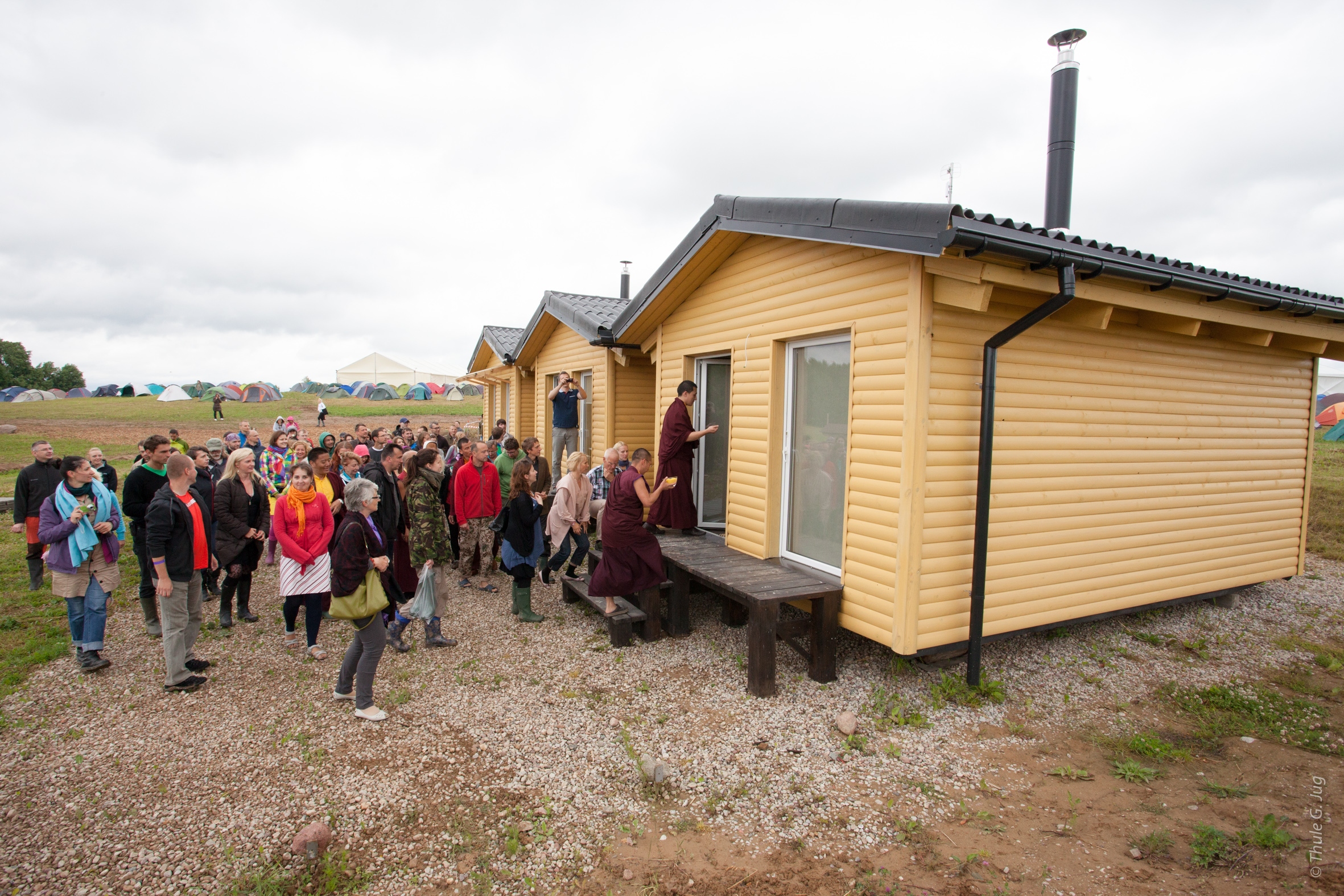 What is the difference between a retreat and daily meditation?
One learns to know ones mind through meditation. In this process we loosen the hold of inner habits and outer expectations. A retreat tremendously amplifies this effect by creating more distance to everyday life. Without the distraction of daily life minds calmness and insight can be more deeply and fluidly experienced. The Diamond Way view allows us to connect the experiences of a retreat with those of daily life.
Please note
Meditation retreat means certain experience and maturity of practitioner, so one is supposed to start in one of our city centers. Check which one is closest to you.
Also you can try public program or so called group retreats at Stupkalnis retreat center. You can follow Stupkalnis facebook page for more information.
Arriving
We kindly ask you to register via email stupkalnis@budizmas.lt at least two weeks before your arrival.

You are more than welcome to support the stupa construction in Stupkalnis retreat centre. You might want to consider a regular or one-time donation.

Bank transfer:
Budistų bendruomenė "Deimantinio Kelio budizmo Karma Kagju tradicija"
BANK: AB SEB bankas
SWIFT: CBVILT2X
LT06 7044 0600 0814 4207

Use the PayPal link below for quick payment
Other ways of participation
In addition to financial, we need various assistance:
physical assistance, starting with assistance in the preparation of Stupa filling (mantrarolls, tsa-tsas, etc.) and ending with the excavation work on the site;
informational support;
just good wishes 🙂
You can contact us by e-mail stupkalnis@budizmas.lt
You can also subscribe to the news and receive information about upcoming events in Stupkalnis
Nearest airports to Stupkalnis are in Vilnius, Kaunas, Riga and Palanga.
Take A1/E85 from Kaunas or Vilnius in the direction to Klaipeda or from Klaipeda in the direction to Kaunas.
Unless you travel with a commercial vehicle (truck or van) you do not have to buy vignettes or pay Lithuanian road tax in any other ways.
After 205km from Vilnius, 108km from Kaunas, or 108km from Klaipeda you should take A12/E77 in the direction of Šiauliai. Then after 20km take road 2104 to Kražiai.
From Kražiai to Stupkalnis only 2.6km left, so here you can use Google Maps or other to get to Supkalnis.
You can go by bus from Vilnius, Kaunas, Klaipeda or Palanga till Kryžkalnis.
From Kryžkalnis it is either shuttle or autostop or on foot (22 km from Kryžkalnis to Stupkalnis).
The shuttle will be organised only during the course in September, at another time please drop us an email at stupkalnis@budizmas.lt a couple of days before your planned trip.
Bus timetable you can find here